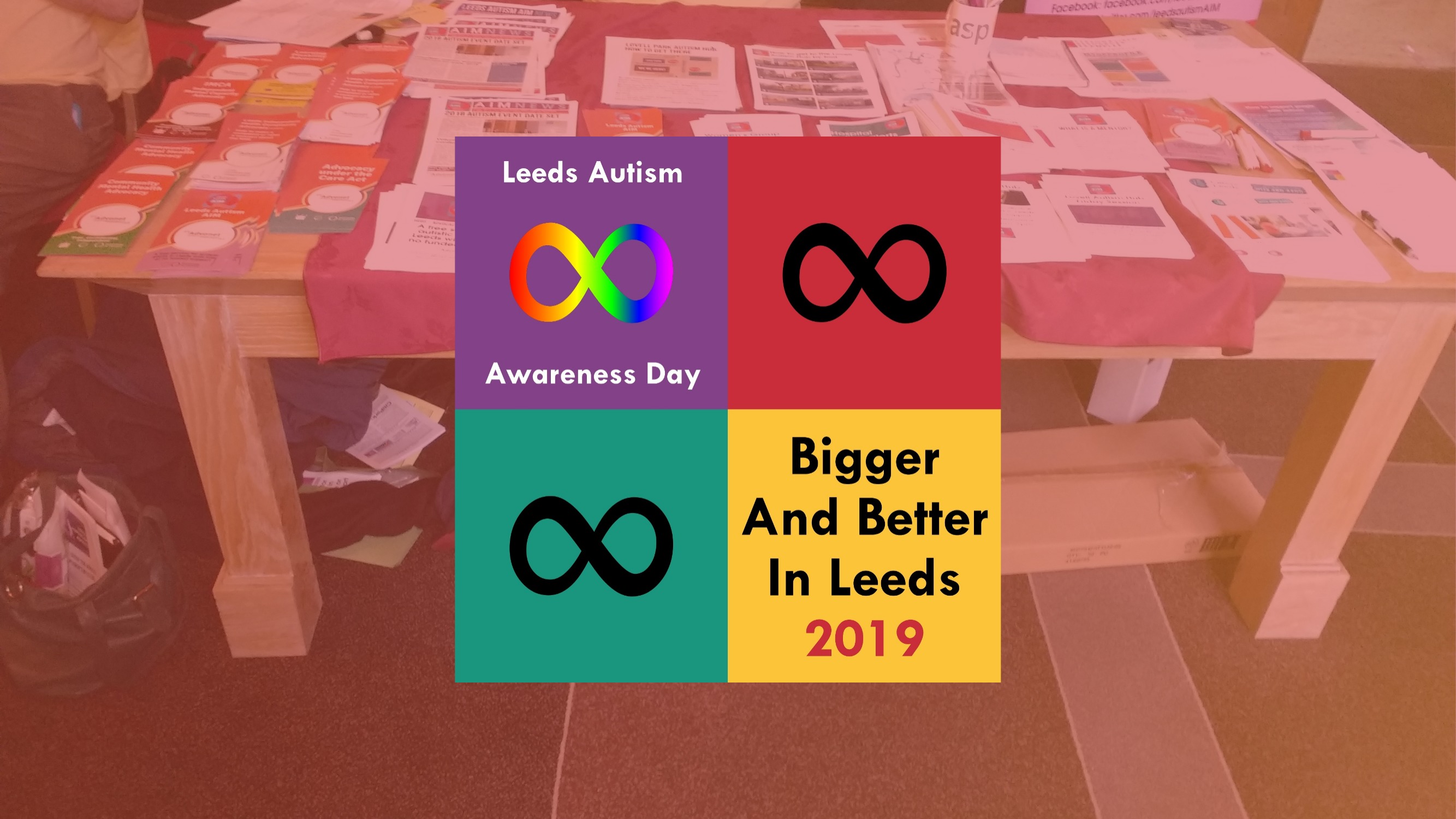 Bigger and Better in Leeds 2019, an information event celebrating autism awareness and acceptance, has confirmed its' speakers, stallholders and workshops. This year, there are three autistic guest speakers:
Dr James McGrath is a lecturer in English, History and Media at Leeds Beckett University. James is talking about his route into full-time, paid employment and the obstacles he has had to overcome to get into his current post
Blake Williamson was born with a brain injury affecting his ability to speak. He communicates using his own signs and assisted communication aids. He is also on the Autistic Spectrum.
He has a degree in Disability Studies and MA in Inclusion. He is a Disability Equality Trainer, using his knowledge and lived experience on a regular basis working with Universities and Local Authorities to improve their understanding of impairment and working in a more person-centred, co-productive way.
Blake's talk is about facilitating communication and how it helps him to have a voice as a non-verbal autistic person
Harriet Chapman is the founder of autistic-led social enterprise Brick 42. Her talk is about her personal experiences of being autistic and having mental health difficulties, talking about how it has impacted on her life
Workshops
This year's events will also have three workshops:
4Neurodiversity is an autistic-led training service run by Angie Balmer, a former neurodiversity lead for the DWP in West Yorkshire. Angie is delivering two workshops. The first is for autistic people and is about self-care.
The second is for non-autistic people and is about autism and acceptance. Workshop one is a taster session of an eight-week course she ran for autistic adults on employment, in partnership with Leeds Autism AIM
Irwin Mitchell are a "full service" law firm based in Leeds. They are running a free half-hour workshop – 'Planning for the Future' – covering making wills for autistic people, which is open to parents and carers of autistic children as well as other visitors.
Following the workshop, Irwin Mitchell are available at their stall on the ground floor for questions
Stallholders
Bigger and Better in Leeds has confirmed around 30 stallholders, spread across two floors at the Leeds Civic Hall. The six groups organising the event – Leeds Autism Services, Brick 42, Leeds ABC, Leeds Autism AIM, Specialist Autism Services and 4Neurodiversity are all there. Also at the event are services including:
Leeds Autism Diagnostic Service (LADS)
People Matters
Live Well Leeds
Leeds Teaching Hospitals Trust (LTHT)
Connect in the North
STARS
Carers Leeds
Housing Leeds
DWP
William Merritt Disabled Living Centre
When and where?
The event is on Tuesday 25th June from 9:30am to 3pm. It is free to attend and takes place at the Leeds Civic Hall, which is at this address:
Leeds Civic Hall
Calverley Street
Leeds
LS1 1UR
For further information, please visit http://biggerandbetterinleeds.org/. If you want to come and meet the Leeds Autism AIM team, we'll be at stall number 20 on the first floor, outside the Banqueting Suite.